10th Anniversary poster by Rui Ricardo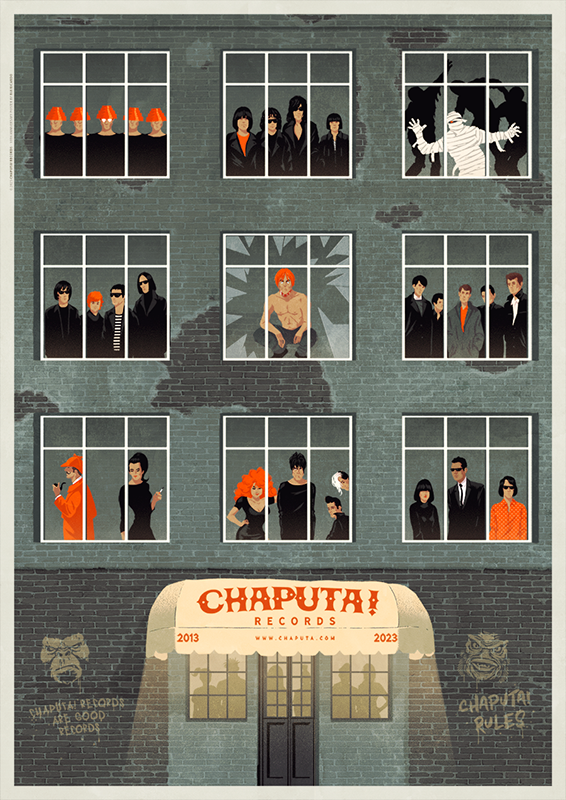 FOR IMMEDIATE RELEASE
Celebrating 10 Years of Chaputa: Free Anniversary Poster with LP Orders
[Chaputa! Headquartes] – [March 28] – Chaputa!, a renowned independent record label, announces a special promotion in celebration of its 10th anniversary. From today onwards, all orders containing at least one LP will receive a free anniversary poster, specially drawn by the talented artist Rui Ricardo.
This poster features a stunning artwork that captures the essence of Chaputa!'s unique music and style. It's a must-have for any music lover and collector who wants to own a piece of Chaputa!'s history.
"We are thrilled to celebrate 10 years of Chaputa! with our customers and fans," said the spokesperson for the label. "The free anniversary poster is our way of saying thank you for your support over the years. We hope you enjoy this special gift and continue to support us in the future."
Chaputa! is known for releasing high-quality, limited edition records from some of the best rock and roll bands in the world. With this special promotion, customers can now own a piece of music history and commemorate the label's 10th anniversary in style.
For more information about this promotion, please visit the Chaputa! website or contact their customer service team.
About Chaputa!
Chaputa! is an independent record label founded in 2013. The label is dedicated to releasing limited edition vinyl records from some of the best rock and roll bands in the world. Their catalog features an eclectic mix of garage rock, punk, and rawk music from both established and up-and-coming artists. Chaputa! is committed to promoting and preserving the legacy of rock and roll and ensuring that future generations can enjoy this timeless music.