SONS OF CHAPUTA! Coming Soon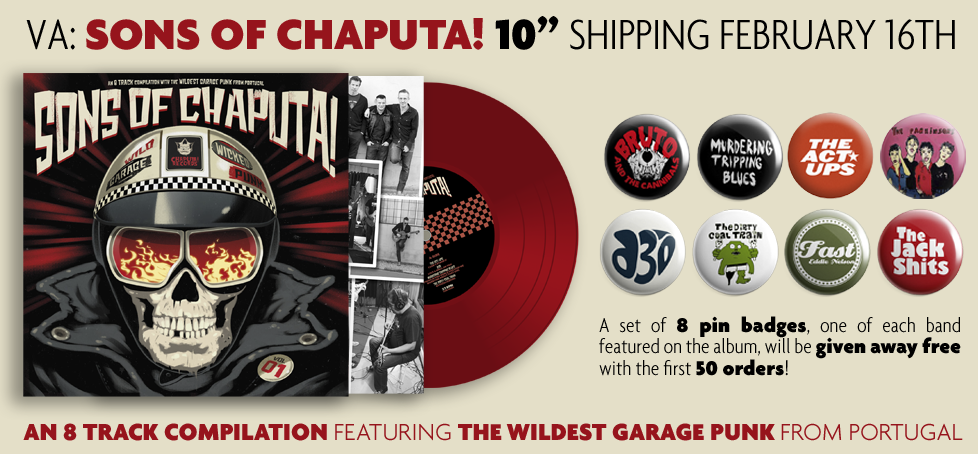 CHR 10001
VA: SONS OF CHAPUTA! – 10″
First of a new Chaputa!'s series, this is an 8 track compilation on 10" red vinyl featuring the wildest sounds from Portugal… That's 8 bands covering 8 garage punk rock "standards" in a way you never heard before. Coming February 16th from Chaputa! Records.
Tracking:
A1 – THE ACT-UPS: I Can't Stand It
A2 – D3O: I Put a Spell on You
A3 – MURDERING TRIPPING BLUES: Nothing In This World Can Stop Me Worrying About That Girl
A4 – THE DIRTY COAL TRAIN: Nytroglicerine
B1 – THE JACK SHITS: You Can't Stand Alone
B2 – THE PARKINSONS: Come With Me
B3 – FAST EDDIE NELSON: Kick Out The Jams
B4 – BRUTO AND THE CANNIBALS: Sex Beat
Limited edition of 500 copies  |  Red Vinyl  |  Inner with photos
All tracks recorded and mastered by Nick Nicotine at Estúdios King [Barreiro, Portugal] from April to June 2015. Compilation concept by Themoteo Suspiro and Esgar Acelerado. Cover Art by Rui Ricardo

A set of 8 pin badges, one of each band featured on the album, will be given away free with the first 50 orders! An offer worth €8.00, courtesy of Badgezilla

Release date: 2016 February 16th