THE SELLWOODS: House Rockin' Party Tonight With… LP
€17.00
In stock
Description
THE SELLWOODS: House Rockin' Party Tonight With… LP



THE SELLWOODS - ONE EYED CAT (OFFICIAL VIDEO)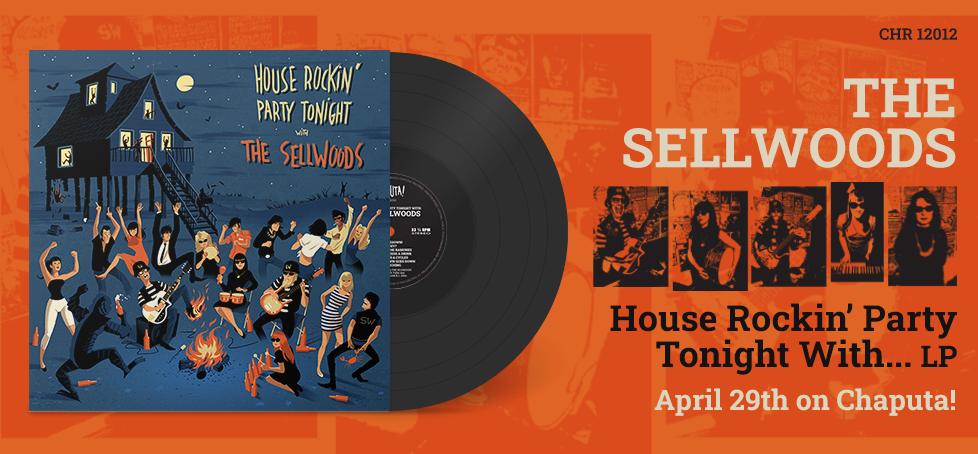 Watch out! The Sellwoods are back! After a bunch of releases in 7 and 10 inches, time has come for their debut LOOOONG play. Coming this April on Chaputa! recs. "House Rockin' Party Tonight With…" will feature 14 timeless pieces of wild garage trash frat rock in the good ol' northwest tradition.
So if you dig The Sonics, The Trashmen, The Frantics, The Wailers or Supercharger and The Cramps – and we're sure you do! – and you're into wild beats and primitive rhythms – all that stuff that makes rock and roll so great… don't look further and grab yourself a copy! Now! This

is the REAL THING!
Tracking:
Side A:
1. Shakedown!
2. Why?
3. Curse of The Ramones
4. Johnny Needs a Drink
5. Buzzards & Cycles
6. Whiskey Town Goes Down
7. Searching
Side B:
1. Demented Planet
2. Volcano Girl
3. One Eyed Cat
4. Down In The Alley
5. The Walk of Shame
6. Somethin' Else
7. Goldstar 500
"Behold, the first long player from The Sellwoods! You hold in your hands an unholy amalgam of Supercharger, The Cramps, and far too many late night viewings of AIP Beach Party movies. Toss this on your player and get ready to GO!"
Old Man Foster (th' Losin Streaks)
"The Sellwoods are like a bowl of Froot Loops breakfast cereal poured on top of an unfinished Ed Roth "Red Baron" plastic model kit while some Weird-oh plays a badly scratched "Sonics" 45rpm single on a tattered, vintage Champion portable record player over and over again. Yeah, they're that good!"
Chris Rosales (The Jackets)
"FUZZ! STOMP! SCREAM! That's what I want outta rock n roll, and The SELLWOODS got IT and then some! I'm real happy you learned that jangly schmangly F29 dull chord to add to yer Byrdy Schmyrdy cry baby tune, but, BORING! Gimme that in yo face, straight to the point 2 chord snarl, REAL GARAGE PUNK delivered by The 'WOODS any day and every day! YEEEEAH!!"
Daniel (Freaks of Nature)
"The Sellwoods – Sloppy, Sleazy, Snotty Sights and Sounds. What's not to love?!"
Lisa Petrucci (Something Weird)
All songs written by THE SELLWOODS, except A1 by B. Fuller, A7 by D. Revercomb & L. Allen and B6 by Sheeley & Cochran.
Recorded, mixed and mastered at Fetish Pop Studio in Portland, Oregon, USA by Kirk Larsen.
Vocals on "Volcano Girl" by June Snakebite Sellwood.
Keys and backup vocals by Phaedra Sellwood on "Searching".
Harp on "Shakedown!" by Dave Berkham.
Cover art by Rui Ricardo | Design by Esgar Acelerado.