LOLA LOLA: Baby Please Don't Go 7″
€10.00
In stock
Description
LOLA LOLA - "Baby Please Don't Go" (Official music video)
LOLA LOLA: Baby Please Don't Go 7″
With their songs being highlighted around the world by cult DJs, radio stations and the music blogosphere, LOLA LOLA have traveled the Iberian highways to clubs and festivals, firing up audiences and leaving a trail of worn shoes and infatuated eardrums behind them.
On their second adventure with Chaputa! Records, LOLA LOLA present us a revisitation of the mythical traditional blues song "Baby Please Don't Go". Popularized in 1935 by the Delta musician Big Joe Williams, it became one of the most covered songs in history, by names with the notoriety of Muddy Waters or Rose Mitchell, now interpreted in the unmistakable style of the band from Porto.
On the B-side, they beckon us with "Goodbye", a dense and rushed song, straight from the band's guts to the listeners' nerve endings, begging to be consecrated on the dancefloors of Goldhawk or Marquee Club.
LOLA LOLA's fifth 7" once again counts on their friends Nuno Riviera for the production and mixing, and Mike Mariconda for the mastering, all illustrated by the Spanish tattooist and designer Carmela Maracas, originally from Granada, who shares with the band the aesthetics of the golden decades of the last century.
Tracking:
A- Baby Please Don't Go
B – Goodbye
With their roots in the ever pulsating and innovative creative movement in the city of Porto, LOLA LOLA were formed in 2014, from the union of a very experienced and tested musical trio: Tiago Gil (Guitar), Miguel Lourenço (Bass) e Hélder Coelho (Drums), all formerly of Os Tornados, to which were added the disconcerting voice of Carla Capela, known in Porto's nightlife circuit as DJ Just Honey, and a powerful baritone sax, currently in the hands of the master Rui Teixeira.
Nurtured by the musical universe of the 50s and 60s, and inspired by R&B/Popcorn, 50s/60s and Rock'n'Roll, Lola Lola signed in early 2015 with the prestigious independent label, "Sleazy Records", and released in the intervening period singles "Money in the Can" (June/2015), "Sweet Lovin'" (December/2016), "Voodoo Man/Voodoo Woman" (February/2018), and by the sovereign Chaputa! Records, luso seal of cult in which they debut with the release of "Killed a Man in a Field" (Septembre/2019), their fourth phonographic record.
Starting the year 2023, In her second adventure with Chaputa! Records, LOLA LOLA presents us with a revisitation of the mythical traditional blues song "Baby Please Don't Go".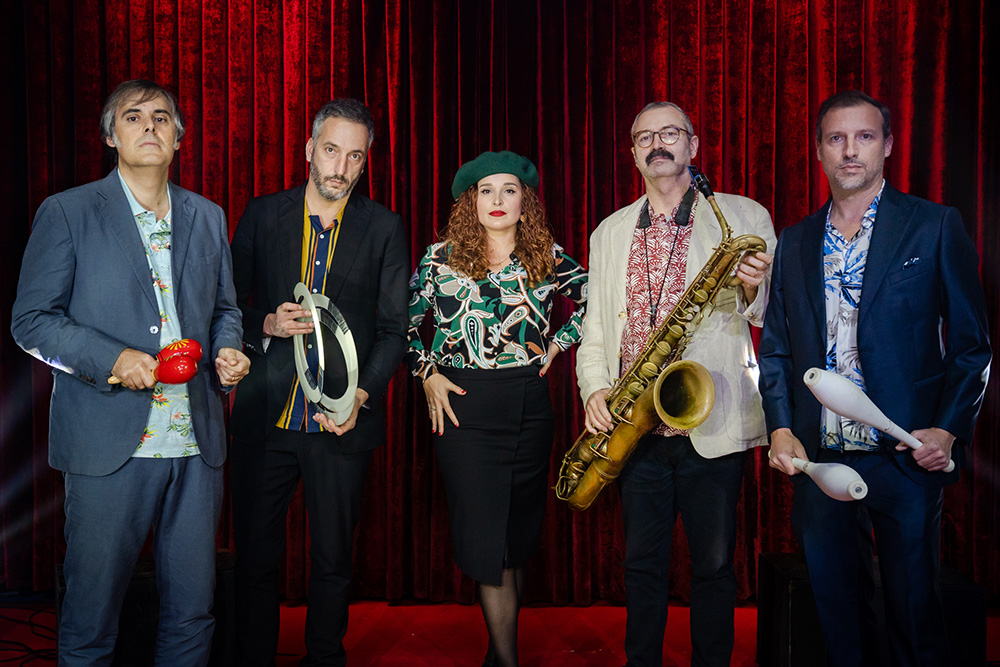 What they say about it!
"Baby please don't go… and what a version!(…) This beauty is selling out very fast! Run!" — LUÍS SOULFUL
"Great version of Baby Please Don't Go available shortly from the fantastic Lola Lola… Get on it ❤" — BILL KEALLY
"Totally in love with the latest release by the great Porto band Lola Lola. It did arrive last friday, just on time to give it a play by night at the bar, both sides. It's their 5th 7", and to me their best one. Their sound is evolving from classic r&b to a more crude, wild sound. Released (as well as the previous one, four years ago) on the Portuguese indy label Chaputa!, with the fabulous artwork by the graphic designer, tattooist & drawer Carmela Maracas. As usual, under TT Syndicate guitar Nuno (Silva) Riviera production.
We got an incredible version of Rose Mitchell's classic "Baby please don't go". Rui Teixeira's sax is off the roof! And I really like as much their original "goodbye" on the flipside, which to me sounds almost as a punk garage combo. Carla Capela's voice fits perfectly. I could see this as a regular spin on our sadly extinct A Wamba Buluba club.
As I said, played both last friday and not one, not two, but more people came to the DJ booth to ask "wow, what's that?" both songs. You can order yours on Chaputa records website, or well, wait till a local shop nearby your area has copies for sale, but you know this normally ends up in selling out and "oh,  don't know how but I missed it" so I'd be ordering yours before it's too late!"—FONSOUL
"Great to have new releases to get excited about still, and here's a belter from Portugal's Lola Lola… A familiar song, but this is the way to do it; like they so often did in the golden era of music – take a classic and do it in a unique way.
We've all heard tunes like Fever, 16 Tons, or Summertime a lot, yet still hear versions from back in the day that sound fresh, cos the artist put a new angle on it… Same with this; unless i'm missing something, it's a unique take, with almost garage-punk vocals and one of the sickest solos i've ever heard from the baritone sax." — MJ PARRY
"One of my favorite Portuguese bands has just released their 5th single, like the previous one, on Chaputa! Records. Hey! this great band from Oporto has the good taste to release their albums only as singles, so there is little room for boredom, always two songs with grace, wrapped in an effective cover, that leave you wanting more. As it should be!" — DEEJAY FRANCHO
"The theme is probably several hundred years old, but Big Joe Williams (1935), Muddy Waters (1953) and Them (1964) popularized it, and still Baby, Please Don't Go is widely covered in all possible genres. This month a nice cowpunk version of Dash Rip Rock came out, but this exotic popcorn banger from Portuguese R&B outfit Lola Lola is even more exciting – they ensure that the classic remains a hit on the dance floor in 2023." — ADD TO WANTLIST